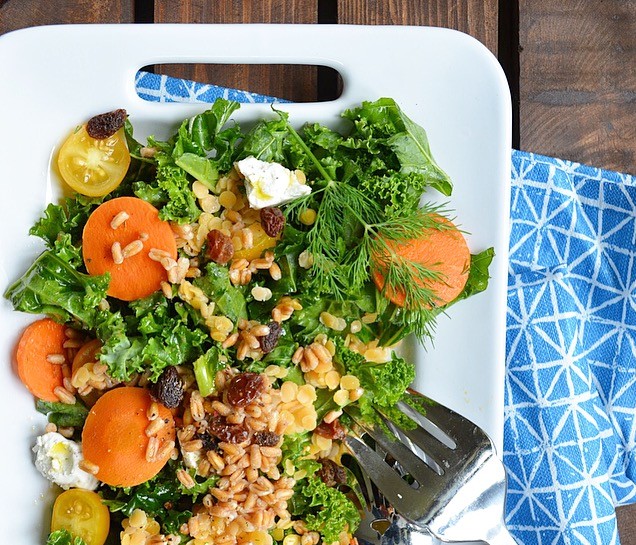 If you follow my blog, you know by now that I am an avid salad lover. I enjoy finding new ways to make salads anything but boring. Today's recipe is no exception. Chewy lentils and ancient farro pair with sweet raisins over kale tossed in a lemony dill dressing in this Moroccan adventure of a salad. It is a great salad/grain 2-for-1 side dish to pair with meat or as a vegetarian entree.
Moroccan Kale, Lentil and Farro Salad with Lemony Dill Dressing
Ingredients
4 c chopped kale
1/3 c red lentils, cooked according to package
1/3 c farro, cooked according to package
1 carrot, sliced thinly
1/2 c raisins
1/2 c yellow cherry tomatoes, halved
1/3 c soft herbed goat cheese
for dressing
2 tbsp chopped dill
3 tbsp olive oil
juice of half a lemon
1/4 tsp cracked black pepper
Instructions
cook farro and lentils according to package instructions. During the last 5 minutes add carrot slices to water with farro or lentils to lightly soften.
allow farro and lentils to cool slightly.
whisk together dressing ingredients.
toss kale in dressing, reserving some dressing for the top of the salad.
lay kale out on a platter. Top with carrots, raisins, tomato, goat cheese, lentils and farro.
pour remaining dressing over top of salad. Top with extra cracked pepper.
http://freshandfit.org/moroccan-kale-lentil-and-farro-salad-with-lemony-dill-dressing/