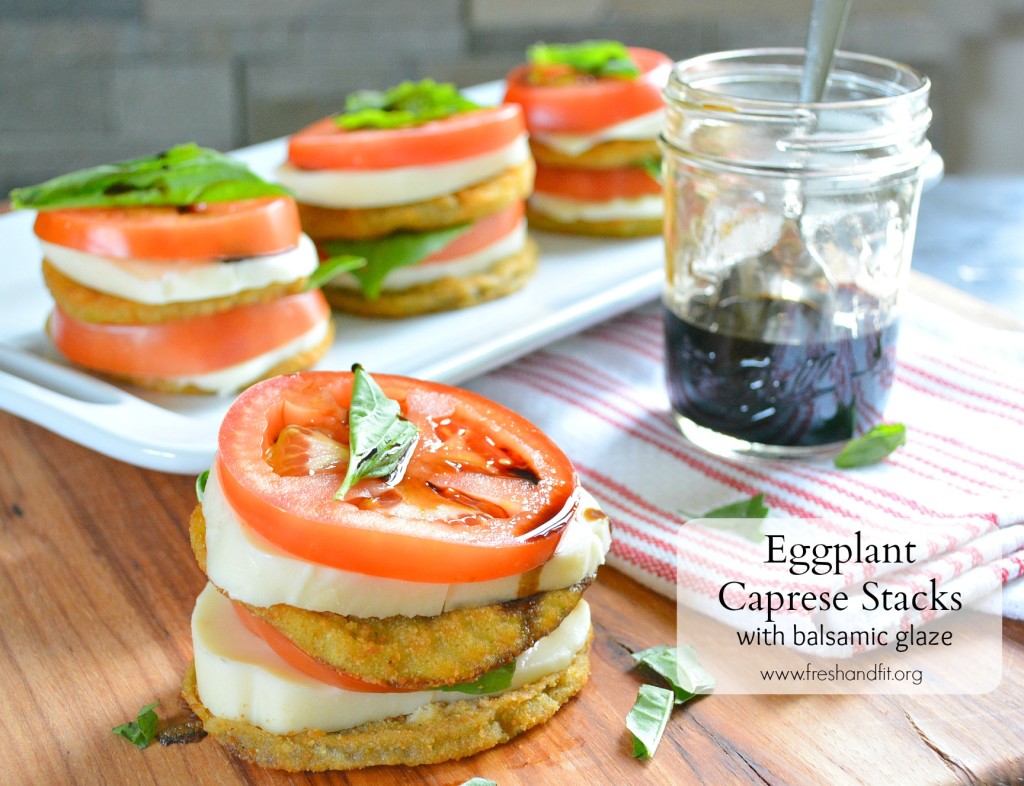 Trader Joe's grocery store has become a favorite destination for me to do my grocery shopping. Not only are the prices hard to beat, but I love their selection of prepared frozen items from their signature line. I rarely make eggplant, so when I came across these breaded eggplant cutlets at Trader Joe's I had to buy them. They crisp up super quick in the oven and take all the work out of having to batter and coat your own eggplant cutlets. I knew they would be amazing in a caprese recipe. Traditionally, caprese type salads are made with mozzarella, tomato and basil–so the crispiness of the eggplant kicks it up a notch and makes it more of a hearty, satisfying dish. These eggplant caprese stacks with balsamic glaze would make a terrific side dish to just about any entree or a delicious vegetarian entree option.
Eggplant Caprese Stacks wit Balsamic Glaze
Ingredients
For Glaze:
1/2 c balsamic vinegar
2 tbsp brown sugar
For Eggplant Stacks:
8 eggplant cutlets (trader joes brand)
2 large tomatoes, sliced to 1/4 inch thick slices
1 large mozzarella ball, sliced into 1/4 inch thick slices
8 basil leaves
Sea salt and black pepper
Instructions
To Make Glaze:
Combine ingredients over med/low heat in a small saucepan. Stir until sugar dissolves.
Bring to a low boil. Reduce heat and simmer 20 minutes or until thickened.
Pour into a container and refrigerate at least 2 hours.
For Stacks:
Cook eggplant cutlets in oven until crispy and lightly browned. Allow to cool slightly.
Layer slices of eggplant, tomato, mozzarella and basil. Repeat and then create another stack. Season with salt and pepper.
Drizzle with balsamic glaze before serving.
http://freshandfit.org/eggplant-caprese-stacks-with-balsamic-glaze/