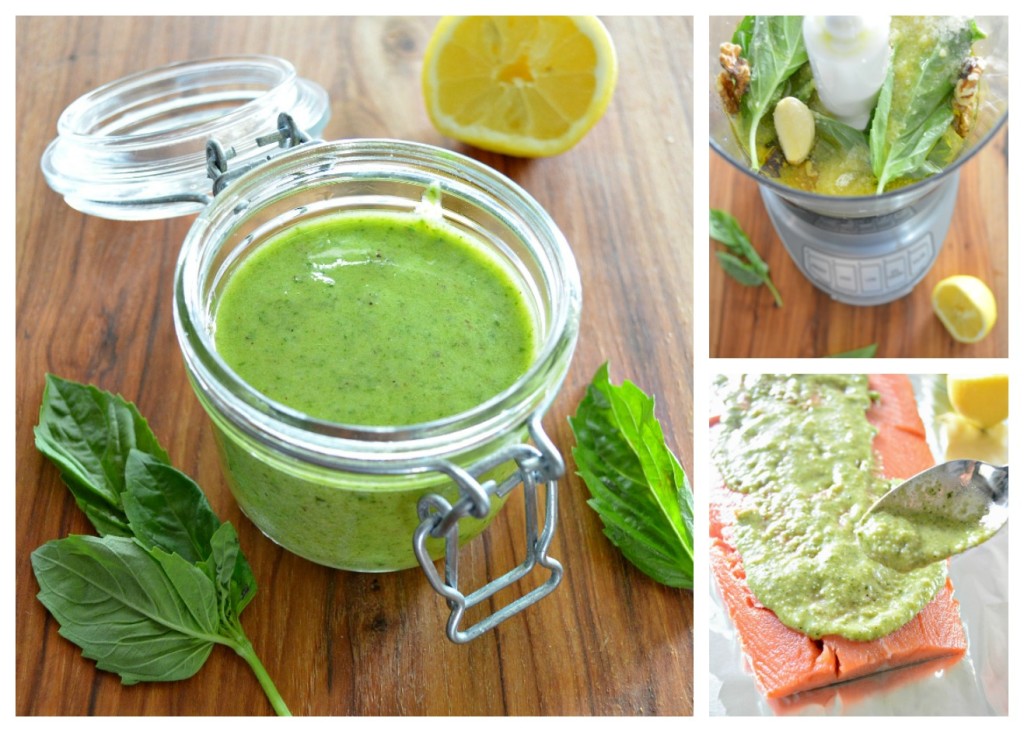 Fresh pesto is one of those recipes that can be smothered on just about anything to create a fresh bright flavor. I often make pesto to put on pasta, zucchini noodles, pizza and chicken. I think it would even be delicious on grilled steak as a chimichurri alternative. Today I am spreading it on salmon just before grilling. You can make pesto out of any nuts you prefer, I used walnuts. The addition of fresh basil adds a hint of anise flavor to any dish and a beautiful bright green color. A squeeze of lemon juice adds a little tang, perfect for fish dishes. Try this lemon walnut pesto on your next recipe!
Lemon Walnut Pesto Grilled Salmon
Ingredients
2 lb. salmon filet
For Pesto:
1/3 c olive oil
2 tbsp lemon juice
1/4 c walnut pieces
6 large basil leaves
1/3 c grated Parmesan cheese
2 garlic cloves
Instructions
Heat grill to 425. While grill heats, prepare ingredients for pesto in a food processor or blender.
Blend until smooth.
Pour into a small bowl. Refrigerate until ready to make the salmon.
Lay salmon on a large piece of foil. Spoon pesto over salmon.
Fold foil over salmon so that it is completely enclosed in foil.
Place on grill. Cook 15 minutes. Slice salmon and serve.
http://freshandfit.org/lemon-walnut-pesto-grilled-salmon/