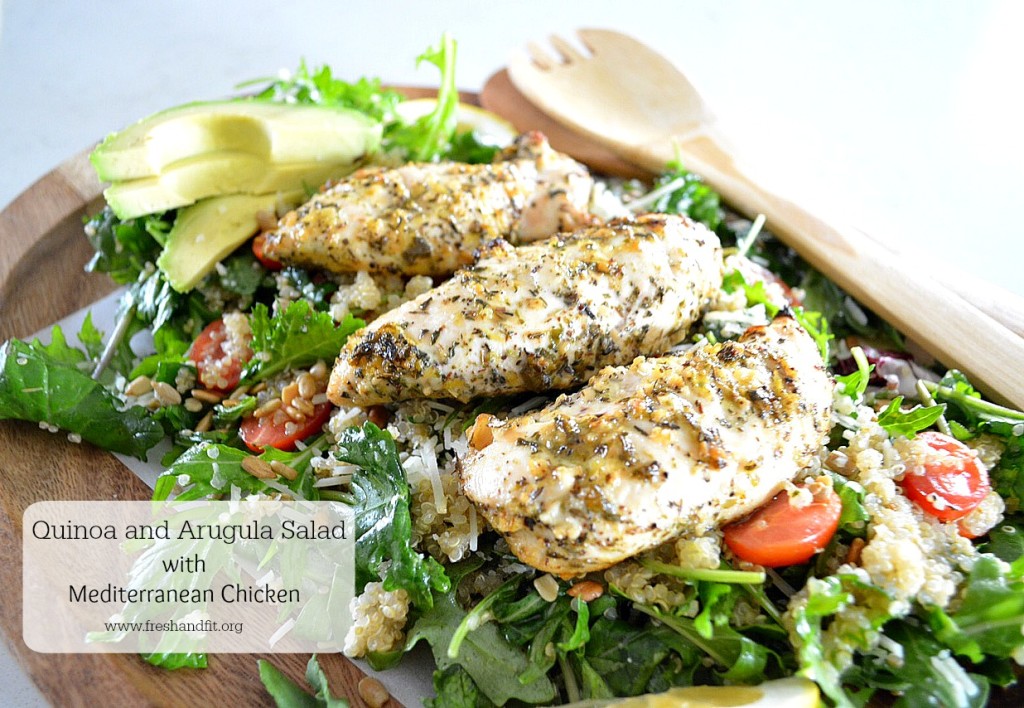 One of my favorite things about Spring is switching from stick-to-your-ribs comfort meals  to lighter, garden fresh recipes. I love making a meal out of grain salads and earthy greens topped with grilled or roasted herb chicken. Hints of lemon run through this Quinoa and Arugula Salad with Mediterranean Chicken dish, making for a bright and flavorful Spring recipe. It becomes so much more than a salad when you combine all of these ingredients.  A little bit of parmesan cheese, crunchy sunflower kernels and heart healthy avocado top the recipe and each bring there own unique flavors.
Quinoa and Arugula Salad with Mediterranean Chicken
Ingredients
FOR SALAD
1 c quinoa
4 c arugula
1 c grape tomato, sliced
1 avocado, sliced
1/3 c Parmesan cheese, shredded
2 tbsp sunflower kernels
FOR DRESSING
1 tbsp basil, chopped
2 tbsp lemon juice
1/4 c olive oil
Sea salt
FOR CHICKEN
1 lb chicken breast tenders
1/3 c olive oil
1 tbsp lemon zest
1 tbsp lemon juice
1 tsp dried basil
1 tsp garlic, minced
1 tsp dried oregano
1/2 tsp dried thyme
Sea salt and black pepper to taste
Instructions
Cook quinoa according to package directions. Transfer to a bowl and chill 1 hour.
Preheat oven to 400. Line a baking sheet with parchment paper.
In a medium bowl, combine chicken and marinade ingredients. Toss to coat.
Pour chicken onto baking sheet. Bake 30 minutes.
In a large bowl combine ingredients for salad dressing. Add arugula, tomatoes and quinoa. Stir to coat. Transfer to serving dish, sprinkle with Parmesan cheese, sunflower kernels and avocado.
Place chicken on salad. Serve.
http://freshandfit.org/quinoa-and-arugula-salad-with-mediterranean-chicken/