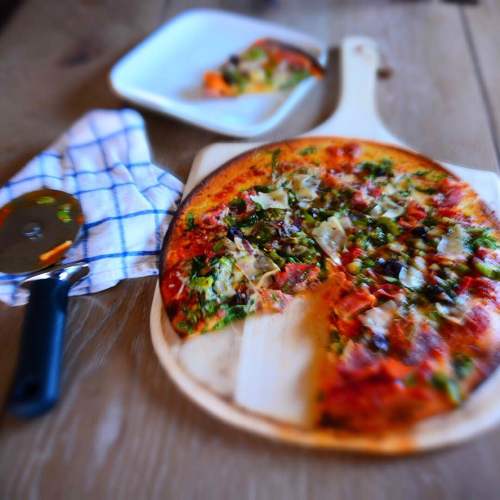 This is an updated version of my last primal pizza. This time I made the pizza larger. I find that going larger makes the crust a little softer toward the center so you may have to adjust cooking time. I was still able to pick up my slice of pizza to eat it, but it wasn't quite as crispy as my recipe for personal sized primal pizza. The toppings on this pizza are perhaps my favorite yet. Tell me what you think. I love to hear your feedback and how you make these recipes your own!
Dry Ingredients
2 1/2 cups almond meal
2 tbsp tapioca starch
2 tsp dried oregano
2 tsp dried basil
1 tsp sea salt
Wet Ingredients
2 eggs
1 cup unsweetened almond milk (or any milk you prefer)
1 tsp minced garlic
Preheat oven to 425 and grease a large pizza pan with non stick spray
Combine dry ingredients and break up any clumps of flour
In a separate bowl, whisk eggs and milk along with garlic
Slowly stir wet ingredients into dry until well combined. Batter will be loose.
Pour into pizza pan. Lift pan and roll around to help batter reach the edges.
Place in oven for 15-20 minutes or until edges are golden. Bubbles may form while cooking.
Allow to cool 10 minutes before adding toppings.
Once you add toppings, return to oven and cook an additional 10-15 minutes.
For the toppings I used;
2 c pizza sauce
2 cups shredded Asiago cheese
Sliced prosciutto
2 handfuls of arugula
Carmelized red onion (sautéed in grassfed butter)
Green bell pepper
Sliced kalamata olives