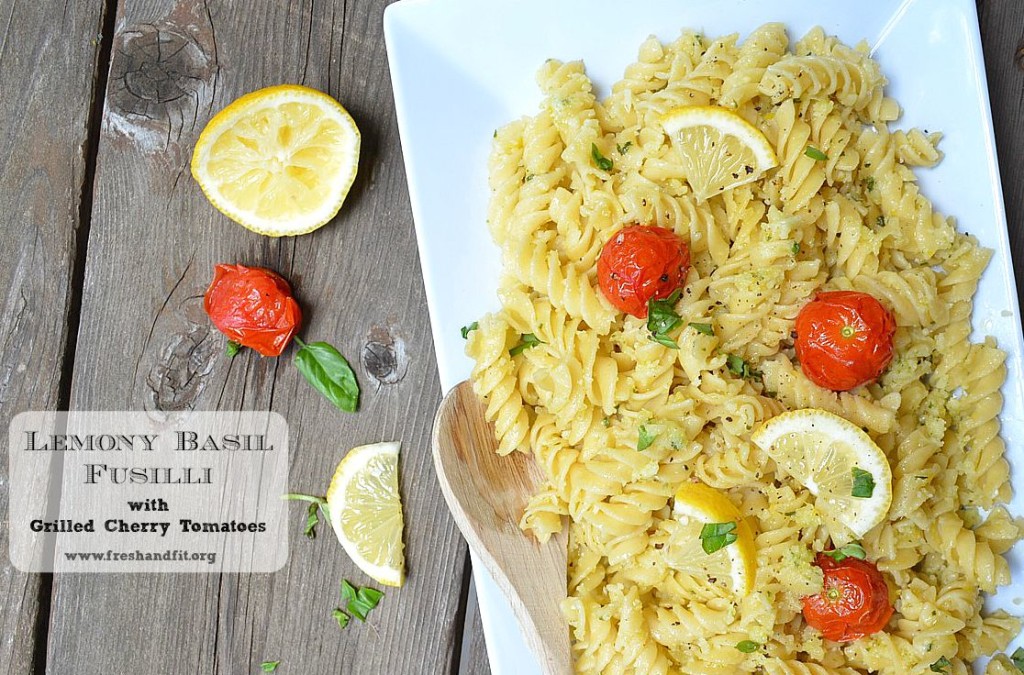 When you think of summer recipes, pasta probably doesn't come to mind. But, this Lemony Basil Fusilli with Grilled Cherry Tomatoes is light, lemony and earthy. A perfect summertime flavor combination that is both refreshing and filling, but not over-stuffed kind of full. Grilled tomatoes add a nice sweetness and pop of color. This recipe would be delicious topped with grilled chicken or alongside meat entrees, although I think it is great on it's own.
Lemony Basil Fusilli with Grilled Cherry Tomatoes
Ingredients
3 cups dry fusilli pasta
8-10 basil leaves
3 extra basil leaves, finely chopped for garnish
1 3x2 inch chunk of hard parmesan cheese
1/2 c + 1 tbsp olive oil
1 tbsp lemon zest
1 tbsp lemon juice
1/2 tsp sea salt
Black pepper to taste
5 cherry tomatoes
Instructions
Preheat grill to 350 degrees. Toss tomatoes in 1 tbsp olive oil, season with sea salt and pepper. set tomatoes on highest rack.
Cook until lightly grilled and bursting. About 10 minutes. Remove carefully.
Combine basil, parmesan, lemon zest, lemon juice and olive oil and sea salt in a blender.
Blend until well combined. Mixture will be slightly chunky.
Cook fusilli according to package directions. Strain. Return pasta to pot.
Pour basil/lemon/parmesan mixture over pasta. Coat well.
Pour pasta onto serving dish, top with grilled tomatoes and chopped basil.
http://freshandfit.org/lemony-basil-fusilli-with-grilled-cherry-tomatoes/