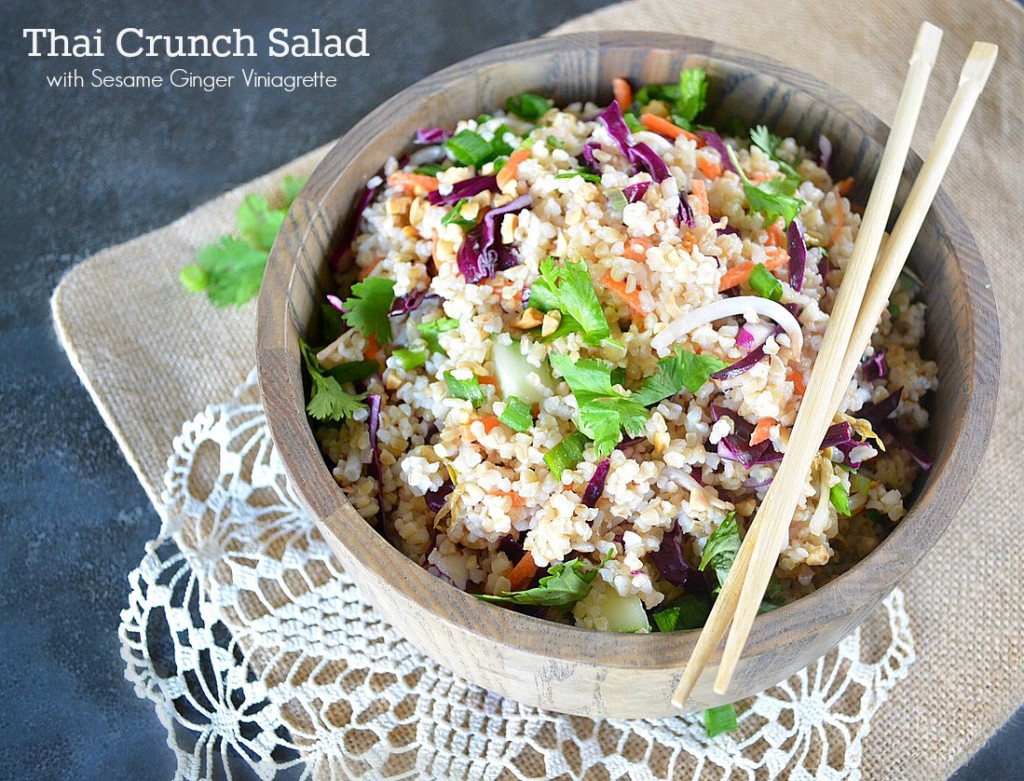 I always enjoy grains added to my salads, this is especially true in the colder months. Adding exotic and chewy grains create a heartier salad with a more satisfying texture. Today's recipe is inspired by the fresh flavors of Thai cooking. Raw veggies like cucumber and purple cabbage meld deliciously with the nutty aroma of sesame oil and spicy tang of ginger.
Topped with peanuts and fresh cilantro, this Thai crunch salad is perfect for lunch or as a side dish for dinner. I enjoy this salad cold, but you could eat it hot and have it as a sort of Thai take on fried rice. You can even add a little grilled chicken, beef or salmon to make it a complete entree. Keep this dish in your recipes to start the new year, which is fast approaching, on a super healthy note.
Thai Crunch Salad with Sesame Ginger Vinaigrette
Ingredients
2 c bulgar, uncooked
1 c purple cabbage, finely chopped
1/2 c green onion, finely chopped
1/2 c shredded carrots
2/3 c bean sprouts
1 c cucumber, sliced and quartered
1 handful cilantro, chopped
1/3 c chopped peanuts, divided
1/4 tsp chili flakes (optional)
Sea salt to taste
FOR DRESSING
1/3 c sesame oil
1/3 c rice wine vinegar
1/2 tsp fresh grated ginger
Instructions
Cook bulgar according to package. Refrigerate 2 hours. Fluff with a fork.
Stir in chopped vegetables, half of peanuts and chili flakes.
Mix together dressing ingredients. Pour over bulgar and stir well. Season with salt to taste.
Top with cilantro and remaining chopped peanuts. Refrigerate until serving.
http://freshandfit.org/thai-crunch-salad-with-sesame-ginger-vinaigrette/